Blue Sky Pilates offers both private and duet sessions, as well as a variety of small group classes with no more than 7 people at a time so that you receive tons of personal attention!


Privates
A private session is one on one between you and a trainer, where the trainer can assess your needs and accommodate the training specifically towards those needs and fitness goals. Privates are especially recommended for individuals with injuries who need greater attention and modification.
Duets
A duet session is between you, a friend and one trainer (in other words one trainer for two individuals). Duets can be great if the two individuals are at similar fitness levels, and with either minimal injury or similar injuries.
Group Classes
Pilates Basics
Pilates basics teaches you the basic Pilates breath technique and exercises to best strengthen your core (abdominals and back muscles). This class is perfect if you're new to Pilates or just need to brush up on the basics. A combination of all the Pilates equipment will be used, including mat, reformer, cadillac, wunda chair, and jump board in order to give you a taste of all that Pilates has to offer.
Pilates Mat
The Pilates mat exercises utilize body weight as resistance in strengthening the core muscles (i.e. abdominals and back). Small equipment is often incorporated into a mat class such as the foam roller, or magic circle. This class is great for someone looking for a tough workout on a budget.
Combo Equipment
The combo class is an equipment based class utilizing a combination of reformer, cadillac, and wunda chair, the three main pieces of Pilates equipment. By challenging the body in a variety of ways, this class is perfect for someone who has hit a plateau or just wants to try it all! As with all Pilates classes the aim is to flow from one exercise to the next which helps to build muscle endurance (think long lean muscles) and overall strength.
Jump Circuit
Where Pilates meets cardio. The jump circuit class is done on a reformer with a jump board attachment. This jumping aspect, in conjunction with reformer strengthening moves, makes this class similar to circuit training which increases the heart rate for a greater calorie burn (i.e. weight loss). You can expect to sweat! Not ideal for individuals with knee, ankle, or hip injuries.
HAVE QUESTIONS?
Speak with a Pilates Advisor!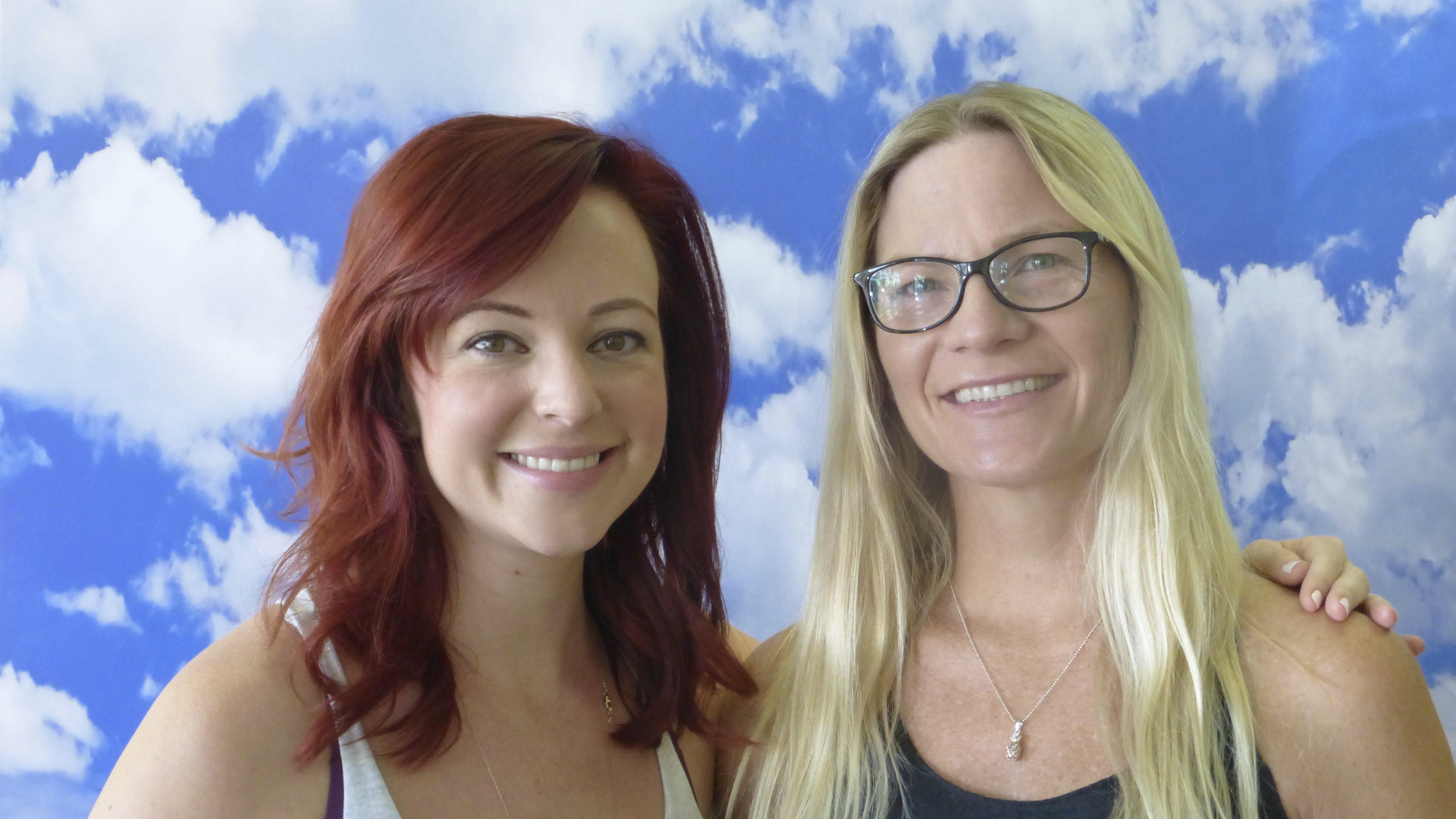 818-932-9197
blueskypilates.net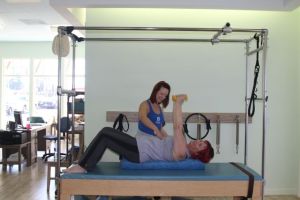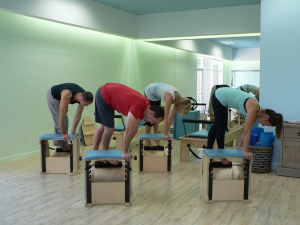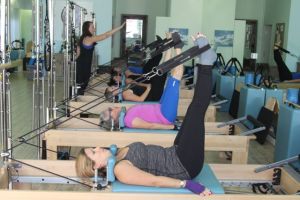 Tower
The tower transforms Pilates mat exercises by incorporating heavy springs to increase overall strength, emphasizing the core. These springs also provide support to the body, allowing for greater lengthening and stretch of the muscles. Tower is a great option for your first Pilates equipment class or as a way to increase your strength so that mat doesn't seem so difficult.
Wunda Chair
Our most advanced group class, each exercise is done on a chair-like piece of equipment (i.e. the wunda chair) providing little support during challenging moves. There is no cheating your way through this class, every muscle in your body is working during every movement. The perfect challenge for athletes looking to improve core strength and endurance, or those looking to take their Pilates practice to the next level. Not the ideal class if you have wrist, shoulder, or certain back injuries.
Happy Hour Combo
Try one of our combo classes at the happy hour price! See combo class description for details.
Happy Hour Reformer
Try one of our reformer classes at the happy hour price! See reformer class description for details.
Happy Hour Tower
Try one of our Tower classes at the happy hour price! See the Tower class description for details.
Some class offerings require instructor consent to join. Any pre-requisite information will be listed when signing up for classes.
Thank you,
Blue Sky Pilates